Bride on a budget? No problem. You don't have to settle just because you don't want to spend thousands on a dress you will wear for a total of 6 hours. I truly believe you can have a fashion-forward and unique dress of your dreams even with a smaller budget. All you need is a little creativity and an eye for a bargain.
As a Mormon, I also need my dress to be modest, but if you don't have modesty constraints, then you'll probably have even more options for creativity.
1. Bridesmaid Dress
No one says that the only kind of wedding dress you can have is one that says "wedding" on the label. There are tons of beautiful bridesmaid dresses out there, and most of them come in dozens of colors, including ivory and white.
As you can see from the picture above, the dress on the right is $109 while the dress on the left costs over $700 because the one on the left has the label of "wedding dress". Bridesmaid dresses run anywhere from $50 – $300, so even if you opt for a high-end bridesmaid dress, you're still way ahead on your budget
Where to Buy
2. Evening Gown
Much like the bridesmaid option, you can also don a stunning evening gown for a fraction of the cost. You can go try going to your local department store like JCPenny or Dillards, but they often don't carry their evening gowns in white in the store. Search online to find out if the dress you love is available in white.
Also try searching prom dress sites. Yes, you're no longer in high school, but you'd be surprised how many beautiful white dresses you can find.
Where to Buy
3. Separates
In the last few years, there has been a huge surge in the popularity of doing separates so that you have the ability to mix and match your skirt and bodice. With this comes additional flexibility to find options in your budget. While the separates you find in bridal stores are still going to be really expensive, you can find a lot of options on Etsy.
Go on Etsy, spend a few hundred dollars on a skirt like this, and then pair it with a stylish, but inexpensive top like this and, voila! You have yourself a beautiful but affordable wedding dress.
Where to Buy
4. Accessories
Now you may be thinking, "accessories aren't dresses," and yes this is true. Think of accessories as an affordable way to really take a seemingly simple dress up to a whole new level. And I'm not talking about a really cute necklace or a sparkly belt. I'm talking about Accessories with a capital "A."
Veils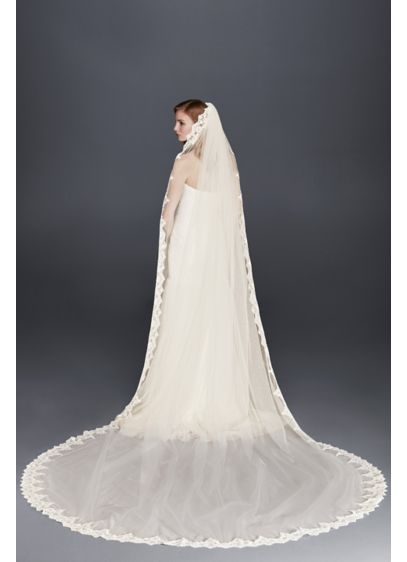 If you have a simple white dress with no train, compensate with a completely dramatic cathedral-length veil. It will add instant drama and complete the "bridal" look.
Capelets
I'm currently obsessed with capelets. They're an incredibly elegant way to add sophistication and glamour to a simple dress.  If you love glitter and sparkle, capelets are a great option. However, there are also lots of lace or chiffon options. Just check out etsy, amazon, and the like.
Capes
Now if a capelet isn't quite extra enough for you, then you can up the drama with a full-on cape. It adds a certain element of fantasy, whimsy, and glamour. If your dress is simple, or doesn't have a train, a cape can add both ornamentation and a train. It's a bonus if you're Mormon and you're looking for an easy way to make your dress modest. A cape covering the shoulders is a very stylish way to obscure modesty alterations.
Body Jewelry
If you have purchased a very simple dress on a budget, some body jewelry can really up the extra factor instantly. If you purchased a $99 dress on sale, and then added some really elaborate body jewelry for $179, you have an absolutely gorgeous dress for $278 with plenty of room in the budget for a nice veil and other accessories.
Overskirt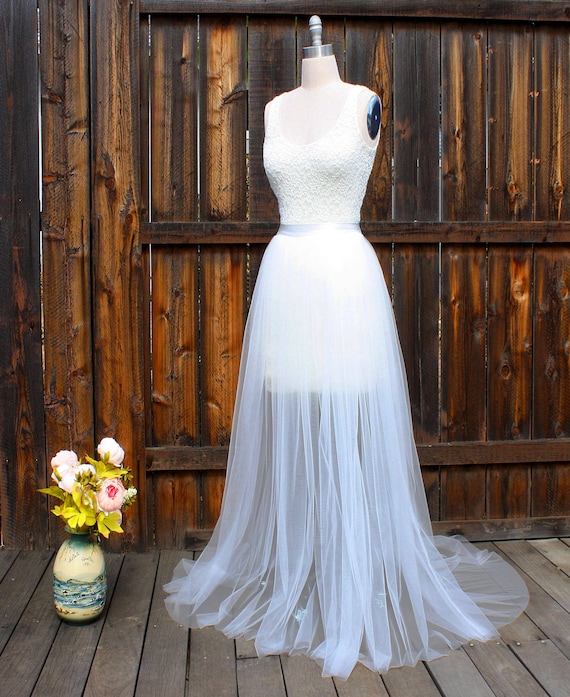 Ok, so this might overlap a little bit with the Bridal Separates category, but this is an additional layer to your skirt that can really help make a regular white dress feel bridal. If you have a simple dress (or even a temple dress) that you want to turn into a wedding dress, you can simply throw this overskirt on top, and you've instantly turned your look bridal, complete with a full chapel-length train.
5. Budget-conscious Bridal Companies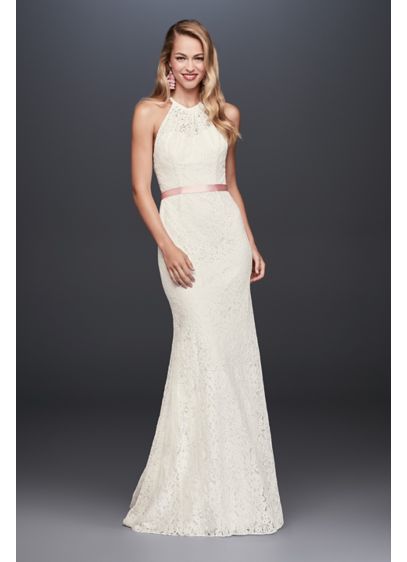 If you feel really strongly about going to a traditional bridal boutique to select your dream dress, there are still options! Not all bridal stores sell their dresses for thousands of dollars. David's Bridal, for example has 472 wedding dresses under $500. Gateway Bridal also has many dresses for under $500 that are both contemporary and modest.
Do not try to buy your wedding dress from a sketchy website in China. It will take a long time and will most likely not result in the dress that was pictured on the website.
Where to Buy
Conclusion
Well there you have it, 5 ways to get your started on your journey for finding your dream dress under $500. There's no reason you should have to compromise on style just because you're being smart with your budget.